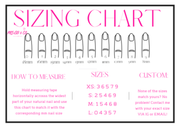 SIZING DETAIL

SIZING KITS ARE AVAILABLE FOR PURCHASING TO HAVE A MORE ACCURATE SIZING

Also you can find a sizing guide listed on my SOCIAL sites
CARE INSTRUCTIONS
Instructions on how to care and apply & remove the nails are sent out with every nail order. Also application kits are sent along as well.

SHIPPING/PROCESSING TIME
Shipping/processing time is NORMALLY 3-5 days to allot for creation of all sets. We cannot guarantee shipping and processing time as orders come in rapidly. We work diligently to ensure all orders are covered and processed in a timely manner. Thank you for your understanding!

Shipping Carrier
USPS 3-4 BUSINESS Day shipping with TRACKING
OVERNIGHT SHIPPING IS ALLOWED! ADDITIONAL CHARGE IS REQUIRED ( OVERNIGHT SHIPPING CHARGE PLUS $10 rush fee ) AND A RUSH ORDER FEE IS CHARGED IN THE AMOUNT OF $10.
• IN ORDER TO GET A OVERNIGHT RUSH, YOU MUST EMAIL ME AT @ ORDERS@PRESSDCO.COM, WITH YOUR FULL NAME AND REQUEST OVERNIGHT. An invoice for payment will be sent, upon receiving invoice payment is due IMMEDIATELY or order will be cancelled and refunded.
RETURNS/EXCHANGES

ABSOLUTELY NO RETURNS and or REFUNDS

EXCHANGE ONLY under certain circumstances.

• CREATOR ERROR
• DAMAGED PRODUCT
Exchanges but be sent back within the time frame - 3 days of receiving set.
Exchanges must show NO SIGN of wear or it will be declined and returned to customer at CUSTOMER cost.
Exchange shipping is paid for by CUSTOMER.
Exchanges will NOT be given if you order incorrect nail size, as I do offer a sizing kit for purchase on my site and the sizing chart is listed Above as well as in the highlights on my social media handles
IG: PRES.SD
FACEBOOK : PRESSEDANDCOMPANY
Text the word PRE$SD to 31996 for a special surprise. #PRE$SDKWEEN